Film:
First Descent
Dir: Kemp Curly and Kevin Harrison
Tagline: A story about the snowboarding revolution.
Rating: *** out of 5 stars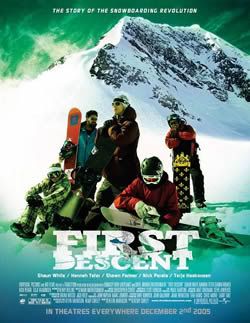 (My third DBK review...I'll be honest, some of this is pure bullshit)
Extreme sport documentaries have been on the rise in recent years. In 2001,
Dogtown and the Z-Boys
portrayed the evolution of skateboarding from punk pastime to revered sport. Soon thereafter,
Step Into Liquid
(2003) and
Riding Giants
(2004) explored the history and popularity of surfing.
It is only natural that a snowboarding documentary would follow, since skateboarding and surfing so heavily influenced the sport.
First Descent
, a documentary about the "snowboarding revolution," is a worthy successor in the extreme sport documentary genre.
The film opens in Valdez, Alaska, where five of the world's greatest snowboarders have gathered to "free ride" on the highest slopes the backcountry has to offer. The gang includes Norwegian champion Terje Haakonsen, snowboarding pioneers Shawn Farmer and Nick Peralta, and teenage prodigies Shaun White and Hannah Teter.
While the crew snowboards on the steep Alaskan mountains, the movie cuts back and forth to a history of the sport itself. Narrated by musician/actor Henry Rollins, this portion of the film covers the origins of snowboarding, its rise as a favored pastime of rebellious teenagers and its gradual acceptance by the mainstream sports world.
Snowboarding initially gained attention as an outlet for angst-ridden skaters and as a nuisance to "sophisticated" skiers. With the aid of competitions and amateur videos, snowboarding was gradually respected as a real sport, and from then on its success snowballed (excuse the pun). It became so popular that skiers had no choice but to allow snowboarders onto their slopes, and the sport was introduced overseas with much hype and enthusiasm.
Directors Kemp Curly and Kevin Harrison keep the backcountry scenes exciting with zooms, aerial views and a great soundtrack spinning Jack Johnson and Foo Fighters. The historical footage and interviews are packed with amusing anecdotes from some of snowboarding's greatest. Those unfamiliar with the sport may recognize a few other appearances in the movie, such as Tony Hawk and Jeff Gordon.
The use of suspense is one of the filmmakers' best attributes. When a snowboarder in a competition slides off a half-pipe, everything slows down and the soundtrack goes silent. After a few moments, he lands with a thunderous boom and the music kicks in. The technique is simple but quite effective.
In the free-ride mountain scenes, sometimes a snowboarder disappears amidst a cloud of white powder and you find yourself holding your breath until he or she re-emerges. As one character explains, "All around you the mountains are alive." One mistake or one unpredictable change in the snow could mean the difference between life and death. In one tense scene, snowboarder Travis Rice narrowly escapes an avalanche.
For anyone with an interest in snowboarding, this documentary is sure to please. It takes a thorough look at the past, present and future of this beloved extreme sport. However, the film's primary downfall might be an inability to connect with people who do not particularly like snowboarding. Nevertheless, as someone who is not a fan, I still found myself entertained and moved.
First Descent
should have no difficulty finding a comfortable place among its documentary predecessors.