Title:
Batoru rowaiaru
-aka-
Battle Royale
(2000)
Dir: Kinji Fukasaku
Tagline: Could you kill your best friend?
Rating: ***** out of 5 stars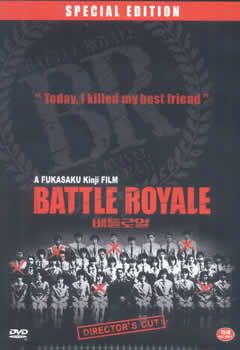 If you have seen this, and you probably have, I don't have to tell you how much this movie rocks. I should not have put off seeing it as long as I did!
The story and the cinematography were a lot better than I expected. I anticipated a lot of gory violence (which it delivered) but I didn't know it was a good film, too!
Takeshi Kitano was a pleasure to watch, and his performance prompted me to add some of his films to my Netflix queue. All the young actors in the movie are fantastic, especially the girls. I think my favorite scene of the film is the lighthouse kitchen scene...if you saw the movie, you know what I mean. If not, you better go watch this movie and then you'll know what I mean.
Battle Royale
has all the visceral, bloody fun of
Versus
but BR is smart and original. The violence is top-notch, the acting is solid, the script is mature and piognant despite all the gore, and the movie is all-around addictive. It'll surely find its way into my DVD collection soon.