Title:
Something New
(2006)
Dir: Sanaa Hamri
Tagline: She had it all under control - except her heart.
Rating: *** out of 5 stars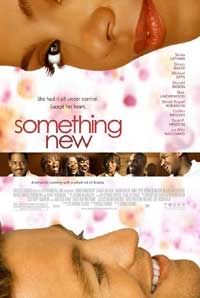 For the Diamondback....
The title sets itself up for criticism: "
Something New
offers nothing new."
Every cliché-loving film critic in America will be having a field day with that headline. True as that criticism may be, Sanaa Hamri's directorial debut is still sure to please its target audience - young females - this Valentine's season.

Something New
follows Kenya McQueen (Sanaa Lathan,
Love & Basketball
), an African-American career woman with no time for love. She holds specific criteria for the "IBM" (ideal black male) she wants to marry - "tall, educated, good teeth, not crazy".
Her friends set her up on a blind date with a handsome landscape architect named Brian (Simon Baker,
Land of the Dead
), who just happens to be white. Although she initially cannot see passed the racial difference, Kenya finds herself falling for the free-spirited gardener. Brian, who drives around a run-down truck with his golden retriever, is nothing like Kenya's ideal man, but he shows her that there is more to life than she ever knew.
As their relationship becomes public, Kenya grows uneasy from the disapproving stares of her friends and family. Her traditionalist mother (Alfre Woodard,
Beauty Shop
) criticizes Kenya's newfound expressiveness and pushes her to date a successful "IBM" named Mark, portrayed by Blair Underwood (TV's
L.A. Law
).
Suddenly, Kenya is forced to reconsider what she really wants – the perfect man she always dreamed of, or the exciting, interracial relationship that threatens to socially isolate her.
Ultimately, the decision is not about which man is right for her, but which lifestyle properly reflects her. Having been sheltered by her mother, Kenya was closed-minded to all things nontraditional. Through Brian, she discovers her true self and learns to defy social norms for her own happiness.
The plot is pretty well-worn territory: girl meets boy; girl is not supposed to like boy; girls loses boy; love conquers all.
Still, Hamri puts an interesting spin on the old tale. So often, the topic of interracial relationships is shown from the perspective of a white person. In
Something New
, a black community exhibits racism as well. While Kenya complains of a white client condescending to her at work, Brian faces prejudice from her friends and neighbors. This balanced, honest view of racism is refreshing.
The film boasts some entertaining supporting characters, including Donald Faison (TV's
Scrubs
) as Kenya's womanizing younger brother, and Earl Billings (
Antwone Fisher
) as her quiet, supportive father. There is a touching scene where Mr. McQueen advises his daughter to follow her heart at any cost. Again, it is overdone in romantic comedies, but appropriate and sweet nonetheless.
One of the movie's primary flaws is the limited demographic to which it appeals. These mushy romantic comedies typically only attract a female audience, and
Something New
's racial commentary may further limit the appeal. However, if given a chance, it has the potential to win over anyone. It even managed to elicit an "aww" or two from a Valentine's Scrooge like myself.
Despite its formulaic plotline,
Something New
is a treat for fans of the genre. It provides all the necessary elements: romance, weddings, warm family moments, and a cute dog. It is not a brilliant movie, nor is it for everyone, but where it lacks in depth, it makes up in heart. It may not be something new, but you are bound to find something you like.