Title:
La cité des enfants perdus
-aka-
The City of Lost Children
(1995)
Dir: Marc Caro, Jean-Pierre Jeunet
Tagline: Where happily ever after is just a dream.
Rating: **** out of 5 stars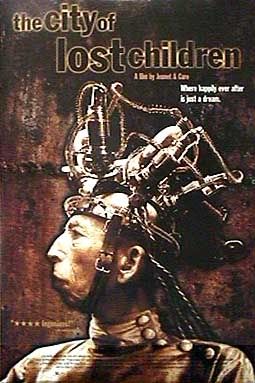 If nothing else, you've gotta give a movie like this credit for being absolutely unlike anything you've ever seen before. The closest comparison I could make is "Brazil" but really the only thing they have in common is that each is so unique!
Firstly, I love fantasy films. They are so rarely made anymore. There's nothing quite like watching a movie as if through the imagination of a child. Sorry if that sounded cliche, but it's true.
City of Lost Children
is definitely that sort of movie, chock full of dreamlike imagery and eccentric characters.
And like most fantasy films of this type, the children are the strongest and most intelligent characters, surrounded by strange, untrustworthy adults. And in
City
we have Ron Perlman's character - a circus strongman - who has the body of an adult but the mind of a child, thus bringing the best of both worlds.
So here's a quick rundown: A lonely scientist, frsutrated that he cannot dream, is kidnapping children so that he can steal their dreams through a machine. He kidnaps the young brother of a circus strongman named One (Perlman), who goes after his little brother with the help of a young pickpocket girl. Standing in their way is the mad scientist, his tiny test-tube-baby wife, and his "sons" who are actually clones of himself. There's also some child-stealing "Cyclopses" and a pair of evil Siamese sisters known collectively as "The Octopus".
Sound weird? It is. And it's great. The cinematography is beautiful and imaginitive, as you'd expect of Jeunet. It might be a little off-putting at the start if you're not accustomed to strange movies, but it begins to make sense after a bit.
City
is the kind of film you'll remember. 'Forgettable' is just not a word you'd associate with this movie. If you like any of Jeunet's other films - and for most of you, that means
Amelie
- you should definitely check this one out. And the same goes for you Gilliam fans.