Title:
Pan's Labyrinth
-aka -
El Laberinto del fauno
(2006)
Dir: Guillermo del Toro
Rating: ***** out of 5 stars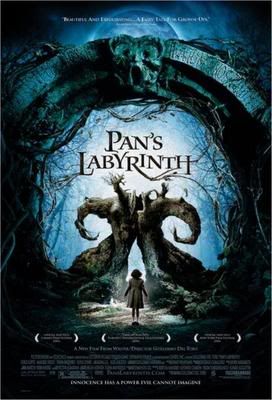 I am seriously frustrated that I can't form words to accurately describe just how brilliant this movie is. But I'll give it my best shot....
Pan's Labyrinth
is a wonderful mixture of fantasy, historical drama, and horror. Set against the backdrop of fascist Spain in 1944, young Ofelia escapes the harsh reality of the war and her sadistic stepfather by creating her own imaginary world of fairies, monsters, and princesses.
An old faun ("Pan") tells the girl she is the princess of a magical underworld and may reclaim her throne by completing three dangerous tasks. Meanwhile, in the real world, Ofelia's stepfather - a ruthless army captain - battles a group of guerillas who have been stealing rations and medicine. The two storylines are woven together beautifully.
Ivana Baquero, the 12-year-old actress who portrays Ofelia, carries this film on her shoulders. She is so vulnerable yet mature at the same time, which is perfectly suited to her character - a girl on the brink of adulthood, struggling to let go of the fairy tales that protect her from cruel reality. Baquero, talented beyond her years, is one of very few child actors to ever really impress me. That short list once included Natalie Portman and Christian Bale, who also made their debuts at age 12 in
The Professional
and
Empire of the Sun
, respectively. I trust Ivana will share in their success someday.
The rest of the cast is equally impressive. As Ofelia's stepfather, Sergi López portrays one of the most evil characters I have ever seen. There is a faint glimmer of humanity in him (hint: stopwatch) but 99.9% is a complete bastard. Maribel Verdú also gives a great performance as the captain's strong-willed servant, Mercedes.
I don't mean to ramble on about actors, but everyone is really quite brilliant in this movie. So I gotta mention Ariadna Gil as Ofelia's mother and Álex Angulo as her doctor, both of whom turn in strong performances as well. Oh! And lest I forget Doug Jones, who played both of the film's creatures (Pan and the Pale Man). All that makeup and latex couldn't hide his stellar performance. Furthermore, the American actor chose to memorize his lines and Baquero's lines in Castilian Spanish so Pan's dubbed voice would match. You gotta love that kind of dedication.
Ok, so finally: Guillermo del Toro. After this movie, I can forgive him for
Blade 2
and
Hellboy
. Del Toro has written a brilliant fable and turned it into a breath-taking film. The script, which clearly draws inspiration from Western fairy tales and Greek mythology, is multi-layered and just open-ended enough to let viewers make interpretations.
Del Toro brings equal parts fantasy and darkness to
Pan'
s look. The makeup fx artists and set designers also did an amazing job. Visually, the movie reminds me of del Toro's horror film,
The Devil's Backbone
, which the director himself refers to as
Pan
's "sister movie." And this one isn't lacking in horror, with some pretty graphic scenes and downright terrifying moments. So leave the little ones at home.
I'm still bitter that the Academy snubbed
Pan's Labyrinth
for Best Foreign Picture when I personally think it's better than most of the Best Picture nominees of last year. In any language, this film is beautiful and every single person reading this review better go see it.