Title:
Zodiac
(2007)
Dir: David Fincher
Rating: **** out of 5 stars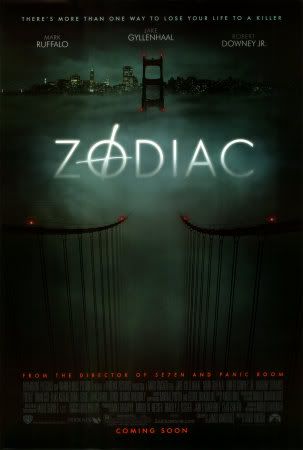 Another great film from a great director.
Zodiac
isn't as "cult-y" as
Fight Club
- it plays more like a straight drama - but it is tense, beautifully shot, and loaded with great actors.
Based on Robert Graysmith's books, this film tells the true story of a notorious killer nicknamed Zodiac who terrorized San Francisco during the 1960s and 70s. In particular, the movie focuses on the men (a cop, a reporter, and a cartoonist) who became obssessed with catching Zodiac.
The movie is split between a detective (Mark Ruffalo)'s hunt for the killer, and a newspaper illustrator (Jake Gyllenhaal)'s personal quest to solve the mystery. Both actors - personal favorites of mine - are at the top of their game here. Robert Downey Jr. is also fantastic as sleezy reporter Paul Avery, who was targeted by Zodiac at one point. And there are numerous cameos by great supporting actors like Brian Cox, Elias Koteas, John Carroll Lynch, and more.
Visually, the film looks great. Fincher delivers both the dark, smoggy feel of San Francisco, and the unmistakable 60s/70s nostalgia. You can actually sense the culture changing during the timeline of the Zodiac case, which really emphasizes how much of their lives the protagonists threw away while trying to catch the Zodiac killer.
The most surprising thing about
Zodiac
is its sense of humor. It is also downright scary at times. You may never look at basements or Roger Rabbit the same way again. If you like true crime stories, or cat-and-mouse thrillers, or just good character drama, you should really enjoy
Zodiac
.