Title:
Timecrimes
-aka-
Los Cronocrímenes
(2007)
Dir: Nacho Vigalondo
Rating: **** out of 5 stars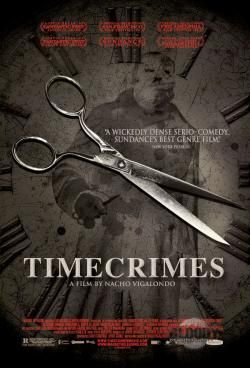 Timecrimes
has accomplished something that is difficult to do - creating a time travel story that is consistent, plausible, and fairly easy to follow. Especially when an idiot like me can understand it. The movie also happens to be brilliant and very suspenseful.
Hector (Karra Elejalde) is an ordinary man with an ordinary life, until one day he sees a nude woman in the woods. Upon investigating, he gets stabbed by somebody with a pink wrap on their head. Hector runs and takes refuge in a neighbor's house - specifically, in a strange lidded tank. When he emerges from the tank, the neighbor (Nacho Vigalondo) informs him that the machine is a time travel experiment and that Hector has just traveled back in time by one hour. In his attempts to make things right, Hector sets off a series of unforeseeable events with tragic consequences. The more he tries to fix, the deeper the problem becomes.
Writer/director/co-star Vigalondo definitely has a mind for time and space physics, or maybe he just has a lot more common sense than me. His script is brilliantly constructed and never misses a detail. This film is smart, tense, and absolutely fascinating. The way everything comes together blows my mind. For people like me who can't quite wrap their head around
Primer
, this one makes for great time-travel Cliff Notes.