Film:
In the Loop
(2009)
Dir: Armando Iannucci
Rating: ****
1/2
out of 5 stars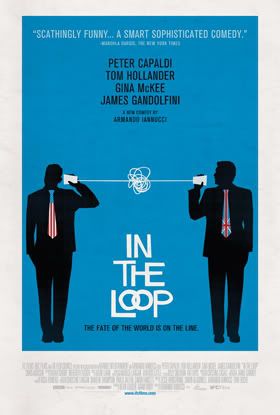 You'd be hard-pressed to find a funnier film than
In the Loop
this year. This spot-on political comedy is full of hilarious characters, biting commentary, and endless quotables. It is a full-length spin-off of the acclaimed BBC television show "The Thick of It."
Loop
follows the inner workings of British and American politicians as they scramble to promote and/or avert an impending war in the Middle East. It accurately - and hilariously - portrays the lengths to which these people will go to push their respective agendas. We see how both sides are not above manipulatation, lies, and spinning the facts.
The entire cast is wonderful, British and American alike. Tom Hollander plays Simon Foster, a British cabinet minister who becomes an unwitting political pawn when he uses a poor choice of words in regards to the war. Hollander is adorably funny, as a politician with good intentions but virtually no public speaking skills. He is hounded by the prime minister's cruel aide Malcolm Tucker - played to absolute perfection by Peter Capaldi. Reprising his role from the show, he absolutely steals the film with his vulgarity. Not a man you'd want to meet in real life. Ever. But god is he funny!
Among the better knowns: James Gandolfini as a pacifistic U.S. general; David Rasche as a war-hungry politician; and Steve Coogan as a pissed off British constituent. I also enjoyed Chris Addison, Anna Chlumsky, and Zach Woods as cut-throat government interns. I could go on and on, as I really love everyone in this movie.
In the Loop
definitely has a dark side, as particularly evident in its anti-climactic ending. But the satire always hits the mark, and I promise you will hurt from laughter - if only because of Malcolm Tucker (who will go down as one of the greatest comedy characters ever, guaranteed).